The Florida Department of Transportation (FDOT) has major changes planned for Interstate 4, Central Florida's backbone of transportation, that are anticipated to begin in the late fall. As the I-4 Ultimate transformation progresses along a 21-mile stretch from Kirkman Road to State Road 434, the face of Central Florida will receive a remarkable makeover.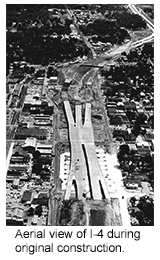 Built in the 1960s, I-4 now far exceeds its capacity with more than 1.5 million trips daily in Central Florida and, as a result, traffic congestion has become a major problem. According to the Texas Transportation Institute's 2012 Urban Mobility Report, Orlando is ranked number 13 in the country for traffic congestion. The report also indicates that 45 hours annually are being wasted in traffic congestion per commuter, accounting for an annual congestion cost of $984 per commuter traveling by automobile. Improvement projects over the past few decades have provided some relief, including the reconstruction of interchanges, widening of the roadway and construction of additional lanes. With the region's growing resident and tourist populations, much more is needed.

The I-4 Ultimate project will improve the overall flow of the corridor in a radical way. More than 75 bridges will be replaced, 15 major interchanges will undergo complete reconstruction and two new Express Lanes in each direction will be added in the center of the corridor. To provide more reliable travel times for motorists, the four tolled Express Lanes will be separated by a concrete barrier from the General Use Lanes, in addition to being a truck-free zone, and provide variable toll pricing based on the level of congestion.
The I-4 project is similar to the $1.2 billion I-595 Express Corridor Improvements Project nearing completion in South Florida. Instead of I-595's reversible Express Lanes, I-4's will run in both directions at all times throughout the day. For more information on the I-595 project, please visit www.I-595.com.
FDOT currently has short-listed four proposer teams to design, build, finance, operate and maintain the I-4 Ultimate public-private partnership (P3) project. Basing its selection on the review of technical and financial proposals each team submitted, FDOT is planning to announce who the apparent best value proposer will be on April 23. The design and construction for the 21-mile project is expected to cost an estimated $2.1 billion.
The I-4 Beyond the Ultimate Project Development and Environmental Reevaluation Study is currently underway to provide similar improvements to an additional 40 miles of I-4 in Central Florida east and west of the I-4 Ultimate project area. More information about the I-4 Ultimate transformation project can be found at www.Moving-4-Ward.com. You can see the future of I-4 in the video below.