The effort to reconstruct Interstate 4 (I-4) in Orange and Seminole counties took its biggest step forward to date. The Florida Department of Transportation (FDOT) on April 23 announced that it has selected I-4 Mobility Partners as the Best Value Proposer and posted a Notice of Intent to Award. The I-4 Mobility Partners team has been selected to design, build, finance, operate and maintain the project known as the I-4 Ultimate through a 40-year public-private partnership concession agreement at a total design and construction cost of $2,323,000,000.00 in year-of-expenditure dollars. This cost is approximately $860 million less than the highest proposal received by FDOT at $3,180,033,233.90 in year-of-expenditure dollars. Commercial and financial close is expected to occur later this summer.
FDOT Secretary Ananth Prasad said, "The use of a public-private partnership for the I-4 Ultimate project will help us deliver these improvements 20 years sooner than using conventional methods. This benefits Central Florida residents, commuters and visitors."
The members of the I-4 Mobility Partners team include the following:
Skanska Infrastructure Development Inc. (Equity Member)
John Laing Investments Limited (Equity Member)
Construction Joint Venture – Skanska USA Civil Southeast Inc., Granite Construction Company, and the Lane Construction Corporation (Lead Contractor)
Design Joint Venture – HDR Engineering, Inc. and Jacobs Engineering Group, Inc. (Lead Engineer)
Infrastructure Corporation of America (Lead Operations and Maintenance Firm)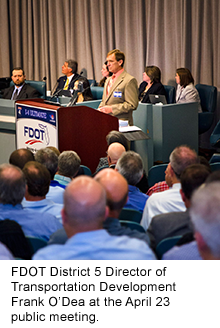 The project includes the reconstruction of 21 miles of I-4 from west of Kirkman Road in Orange County to east of State Road 434 in Seminole County. The I-4 Ultimate project adds four tolled Express Lanes to I-4 while maintaining the existing free general use lanes, providing a choice to motorists. The Express Lanes will be operated with variable tolls, which will be adjusted to improve traffic flow throughout the corridor. FDOT will retain the toll revenue and control the toll rates.
The I-4 Mobility Partners team provided FDOT with additional technical enhancements in its proposal that included direct connections from 4 Express Lanes to State Road 408, capacity improvements in the form of additional auxiliary and turn lanes, pedestrian bridges and enhanced aesthetics along the facility. Construction is expected to begin in early 2015 and be completed in 2021.
The I-4 Ultimate project was procured by FDOT as a public-private partnership. The concession agreement sets the concessionaire's responsibility to design, build, finance, operate and maintain the facility for 40 years. Under the concession agreement, the concessionaire earns "availability" payments from FDOT upon meeting set performance standards to keep the facility open and maintained for travelers. Benefits of public-private partnerships include transferring cost overrun risks for construction and long-term upkeep of the facility to the private sector. Large, complex projects can be combined and accelerated using the public-private partnership approach, advancing the benefits of the project to the public sooner than traditional methods.
I-4 Mobility Partners was one of four teams submitting proposals on this project. To see details about the other three teams, please visit the "Press Room" section of www.Moving-4-ward.com and click on "Media Releases."