As S.R. 436 Shifts to Temporary Configuration, FDOT Reaches Out to Local Businesses

Early in the morning while stores within Altamonte Mall are usually closed, people gathered not to shop – but to learn.
Nearly 20 property owners, managers, and other business professionals attended the Florida Department of Transportation's (FDOT) informational stakeholders meeting on August 20 to learn more about a significant change to State Road (S.R.) 436.
The morning event held at Altamonte Mall was a chance for the public to learn and ask questions about the temporary configuration of the S.R. 436 and Interstate 4 (I-4) interchange as part of the I-4 Ultimate Improvement Project.
On August 24, traffic on the S.R. 436 interchange shifted to provide safe work zones for crews to demolish the old S.R. 436 bridge over I-4 and continue construction on the new bridge. New traffic patterns were introduced as part of this transformation, shifting area motorists to newly constructed bridge decks north and south of the old lanes.
Both bridges are accommodating traffic in both directions, and the temporary configuration is expected to last for up to one year.
David Parks, Community Outreach Specialist for the I-4 Ultimate project, gave two 30-minute presentations discussing the road work and what the S.R. 436 and I-4 interchange will look like when completed.
Parks explained that the newly designed S.R. 436 and I-4 interchange will have a single-point urban interchange (SPUI), which helps alleviate congestion by allowing all left-hand traffic movements to be controlled by a single traffic signal.
Parks also said the interchange will include aesthetic signage, decorative lighting, and a pedestrian tunnel underneath the west side of the interchange to allow pedestrians to safely cross S.R. 436.
To learn more about changes at S.R. 436, visit our website at i4ultimate.com/436.
FDOT Deploys New Highway Advisory Radio to Help Motorists Stay Informed

The Florida Department of Transportation's (FDOT) highway advisory radio is its latest tool for keeping the public updated about the I-4 Ultimate improvement project.
Motorists will soon start seeing bright orange signs on Interstate 4 (I-4) asking them to tune their radio to 1630-AM and preview upcoming construction activity. While the radio station will not play the latest chart-topping songs, it will give detailed, need-to-know construction updates and information about traffic shifts in the immediate area.
The highway advisory radio — a portable and relatively small communication device that can be quickly deployed — covers a vast broadcast area of about 5 miles in all directions.
So, why radio? Mobile text messages are often seen as a modern way to send information to a large audience; however, radio transmission helps promote better road safety habits by not distracting drivers with phone-based alerts. Motorists are encouraged to tune in while stopped at a traffic signal.
The radio will be moved to different locations throughout the project limits as needed to accommodate and address construction activity throughout the corridor.
The advisory radio is another tool in addition to I-4 Ultimate's social media, website and advance construction alert system.
FDOT Wins National Award for I-4 Ultimate E-Newsletter

I-4 Ultimate newsletter subscribers currently are reading award-winning work.
The Florida Department of Transportation (FDOT) recently won a national award for its I-4 Ultimate monthly e-newsletter.
This is FDOT's third American Association of State Highway and Transportation Officials (AASHTO) TransComm Skills Contest award for the I-4 Ultimate project. In 2015, FDOT won an award for the project website, I4Ultimate.com. In 2018, it won for a news release notifying local media outlets and motorists of a long-term closure of Hughey Avenue in Downtown Orlando.
The TransComm Skills Contest is conducted annually by AASHTO's Committee on Transportation Communication to recognize outstanding work by public relations practitioners. The contest awards have become a standard of public relations excellence among state departments of transportation.
The I-4 Ultimate e-newsletter recently won first place for delivering information to stakeholders, local news media and Orlando commuters to keep them informed about what is happening on the $2.3 billion project.
The e-newsletter stood out for delivering breaking news about closures and shifts and for helping subscribers understand construction activity and how to navigate detours and new roadways through a series of articles, photos, videos, and graphics. The e-newsletter also helped show a side of the construction project that isn't visible to daily commuters with profiles of team members, behind-the-scenes looks and more.
The e-newsletter proved to be invaluable in delivering information to an ever-growing base of more than 9,100 subscribers, including organizations, agencies, and media outlets who share the content with their audiences.
Anyone can sign up to receive the monthly e-newsletter from the I-4 Ultimate project directly to their inbox. All newsletters are archived and posted to the website.
E.E. Williamson Bridge To Stay Open During Reconstruction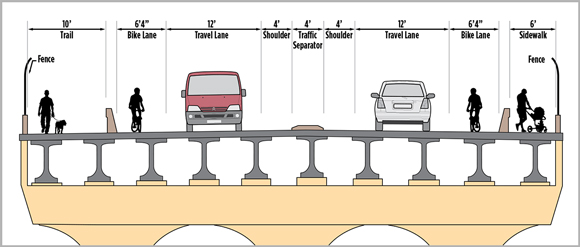 The E.E. Williamson Road bridge will be built in phases allowing two lanes of vehicular traffic and maintaining safe pedestrian access.
The E.E. Williamson Road bridge over Interstate 4 (I-4) will remain open to trucks, cars, bicyclists, and pedestrians during its complete reconstruction, which will create a brand-new structure more than 25 feet wider than the existing bridge.
Work is scheduled to start in September 2019. The project is anticipated to be complete in January 2021. (Schedule subject to change, as construction progress, roadway conditions, and weather may require schedule adjustments.)
The new bridge is designed with support piers at different intervals to accommodate a new auxiliary lane on I-4 and up to 12 lanes of interstate for future expansions to improve safety and mobility. The new bridge also will have wider lanes for vehicles and separate lanes for bikes and separate sidewalks for pedestrians.
To minimize disruption, the Florida Department of Transportation (FDOT) has created a construction plan that allows workers to alternate between building portions of the new bridge while tearing down parts of the existing structure as they become unneeded. To create a safe workspace, the existing lanes will be slightly narrowed when they are shifted away from the portions under construction. In the end, a completely new, wider, pedestrian-friendly bridge will emerge.
Plans call for the two-lane bridge to keep both lanes and a sidewalk open during the day – starting before the morning rush hour and extending into the early evening. To keep work progressing, plans allow for overnight single lane closures from 8 p.m. to 6:30 a.m. At all times during construction, driveway and property access will be maintained.
To ensure safety, the bridge will have maintenance of traffic (MOT) workers to control the flow of vehicles across the bridge at night. Those MOT plans as well as many other structural and material matters are reviewed and monitored for FDOT by WSP USA, a private engineering-services company. The construction contractor is Hubbard Construction Company.
In very general terms, the construction will follow this schedule:
September 2019 – Work begins with a focus on building new lanes adjacent to the south side of the current bridge.
April 2020 – With a newly built lane in place, work continues to prepare the median area as a temporary traffic lane, so workers can remove portions of the existing bridge that are no longer needed.
June 2020 – After removing the northern half of the current bridge, work will focus on building its upgraded replacement.
October 2020 – All vehicular, bicyclist and pedestrian lanes should be in place and open.
January 2021 – Final details completed.